Product Details
Hair Quality
No Chemical No Smell No Tangle No Shedding, Last For One More Year
Hair Material
10A Grade High Quality 100% Virgin Human Hair
Wigs Feature
13x4 Lace Frontal Wig, Side Part, Short Straight Cut,130%/150%/180% Density, Can Be Dyed And Ironed By Your Favor
Cap Size
Medium Size (21.5-22.5 inches)
Lace Color
Swiss, Light Brown
Free Gifts
Wig cap, Eyelash, Comb, Tweezer, Exquisite Gift Packs, Total: $29. 
Shipping
Express Shipping By FedEx OR DHL Within 3-5 Days (Po.Box address is not accepted)
Production Time
1-3 Business Days
Returns
15 Days Return/Refund With Hair In Original Condition
Note

If you need a bigger or smaller cap or adjustment strap and other special customization,
Please remember to take a note on the cart or send us the Email.
All the item when shipping out by FedEx OR DHL will be tagged as Synthetic Hair for fluently Custom checking,
Or maybe our customers will have to pay the extra Custom Tax, I hope your understanding.
We promise all the products are 100% Human Virgin Hair.
FAQS
FAQS
Q: How long does shipping usually take? And can I use a PO.Box as shipping address?
A: Orders ship within 24 hours. We offer Express shipping ( free shipping ) which takes 2-4 bus days ( 2-4 Bdays in the USA, others is 3-5 days ). The Express Shipping includes DHL. And you can receive a notification after shipped out.
NOTE: PO.Box is not accepted.
Don't use a PO.Box as your shipping address. Otherwise, the package can not be delivered.
And, you need to add your phone number when you file the shipping info.
Q: Can I get my wig free part? Can I change my part to side part or middle part?
A: Yes my friend, all of our full lace wig and 360 wig is a free part. But the 360 wigs we will pre part it by brush to be middle part that avoids the hair won't be mess during the shipping. But it can be changed to free part or side part again, so no worries about that if you got the wig is middle part already!
Q: How many bundles will I need to do my head?
A: Depending on how full you want your hair to look, anything over 16" we would recommend purchasing 3 bundles. Anything under 16" 2-3 bundles will work out fine for a nice full look. If you plan to buy bundles with a frontal/closure, normally 2bundles is okay, 3 bundles are fuller.
Q: Can I straighten / style the hair with flatiron/curler?
A: Yes, all hair we sell is virgin hair, so you can straighten/style it with flatiron/curler, and you can dye it as well. It is noteworthy that you need to pay attention to the time. DON'T Overtime.
Q: Do I have to have a PayPal account to order? Can I use my credit card?
A: Yes, you need to have a PayPal account to order, you can't pay with Credit/Debit Card directly. If you have any payment problems, please contact us: service@rosehair.com
Q: When I place an order over $119, can I get a free pro flatiron?
A: When you place an order and paid over $119 (That is your payment after discount), you will get the free pro flatiron. For example, if you placed the $130 order at first, however you used 10% off discount, you paid $110 totally, then you will not get the free pro flatiron.
Q: Which size is your wig cap(Circumference)? Can I have a large size / small size?
A: All of the stock is standard medium, it is 22.5 inches. And it has adjustable straps. Normally it can match the head of most people. If you have a very large/small head, please remember to take a note on the cart or send us the email. 
Q: How long can I know each length? How can I know which length I need?
A: Hi, dear, you can check this Length Reference ( If you bought wavy or curly hair, you need to straighten it up before measuring its length ):
Q: Do all the hair come in 1b or can I get a #2?
A: We only have the color #1b( natural black ) in stock, if you want other colors, you can go to our
custom wig
, And you'd better provide a pic of the color you want. Normally, we provide coloring service for some colors.
Q: Is the 360 frontal a full head of hair?
A: 360 frontals provide coverage from the hairline around to the nape it mimics a real hairline all the way around the head. 2/3 Bundles will be needed for the full look.
Q: What type of hair care products should I use?
A: Treat this hair just as if it was your own hair.
1, Use good shampoo and hair conditioner to care the hair. It's important to keep the hair soft and shiny.
2, You could use gel or spray styling products to keep the hairstyle.
3, Olive oil will be a good choice to keep the hair healthy.
Q: Why are my hair extensions getting tangled?
A: It could be caused by dry hair. Pls make sure to wash & condition your hair at least once a week, twice a week is better. Brazilian virgin hair Comb the hair from time to time. You could go to your stylist for further suggestions.
Q: What's the difference between Full lace wig and 360 wigs? Is that 360 Wig full lace wig? Can I make ponytail?
A: The 360 wig is pre sewed by the machine with 360 frontal and bundles, which is same as what you bought the unit and sewed into a wig by yourself, and there are the tracks on the backside, so that's why we called it breathable wig. And you can call it frontal lace wig, You can make a ponytail, but if you want to make the ponytail or bun to the upside we will suggest you the full lace item then.
Q: How long can it last?
A: Normally it depends on your method/level of care. Treat it like your own hair and take very good care of it, then normally it could last longer than 18 months.
Q: Can I exchange/cancel my order?
A: Yes, you can, but you need to contact us within 24hours via Email (Before Shipped)
, if not, it will be charged a processing fee.
Q: Do I need to pay the tax?
A: Usually you do not need to pay taxes, but if your country's customs is more stringent, you will be charged a certain amount of duties. We usually try to avoid tariffs for you as a low-declared invoice with parcels, however, it is not 100%. You will need to pay the duties if the custom still charges customs duties.
Countries with more stringent customs authorities include:
Germany, Italy, South Africa, almost all South American countries, UK( occasionally ), Canada( occasionally ).
Q: How can I get in touch with you ASAP?
A: Email is the best recommendation, and you'd better write the most urgent question as to the email title, and concise. The message/phone is the second option.
Q: How do I return my order? And how much will I get a refund if I return the parcel already received? Who pays for the return charge?
A: You can send an email to us, title as "Return + Order Number + Reason", we will response ASAP. If you don't want your order /or you to place wrong order/ or want a longer length/ you would like to exchange the order, you will pay for the return charge, and if you want refund will be reduced the 20$ from your amount (Shipping Fee).
HAIR CARE & USE
How to wash/care your hair/wig?
1. When you wash the hair, better to brush it first. Use warm water and hair shampoo to wash for twice. Then put hair conditioner equally on the hair for 5 minutes. Then wash it with cleaning water. Hair conditioner is very necessary every time when you wash your hair! We suggest you use a high-quality hair conditioner.
2. If you want to blow your hair dry, please blow to 80% dry, then keep the rest 20% to naturally dry, by this way, it will keep your hair away from drying and frizzy!
3. When you feel the hair is very dry, you can spray some hair oil. Meanwhile, when you wash the hair, you can pour little hair care oil into warm water, and put the hair inside that warm water for 10 minutes around. The hair will be more silk and soft comparing before. But we don't suggest you use hair oil every day. Because hair oil may make your hair strands dry and hard!
4. If you want to get your hair curls back, better to use crimping iron to curl the hair according to its original curl shape again!


How to use a wig/hair?
1. If you want your wig/hair looks natural/amazing as our post on FB/IG, you have better to book a professional hairstylist to install it.
2. If the hair is wavy or curly style, we don't suggest to comb it. If you have to, please comb it with hands or wide-teeth brush gently. Tight teeth brush will ruin the hair original shape and make it fizzy and feels like tangle! Please always comb the hair from the ends and work your way up.
3. When you dye the hair with bleach powder, please control the time within 5 minutes. If you dye it with dye cream, you need to control the time within 20 minutes. Otherwise, the hair will be damaged by cream if you leave it too long there.
4. When sleeping, please bond the hair with an elastic band or wear a cap. It will avoid tangling or shapes-changing. After waking up, please remove the band and comb through beginning at the ends and working your way up to the roots.
5. When swimming, we suggest wearing a swimming cap. Because the seawater or pool water is not good for hair, it will make the hair tangle and rough. It's better to wash it with warm water, with hair shampoo and hair conditioner after swimming.
6. For more hair care/usage tips, you can follow us @rose hair on Youtube / Facebook, we will often post tutorial videos about hair care and hair usage there!
Rose HAIR COUPON
Rose Hair is one of the top human hair supplier and retailer, selling virgin human hair weave, hair extensions, hair closure, wigs and so on at affordable price. There are big varieties of hairstyles for you to choose from. You will easily find the most suitable one from Rose Hair. Now we offer Rose Hair coupon codes for you to save your money. Once you get your hair, you will not buy from anywhere else. The 2020 spring latest Rose Hair coupon codes are right in here . Come on over!!!
Summer Sale    All Site Has Been 65% Off
Extra 13% OFF over  $139   code:R7
Extra 15% OFF over $199  code:ROSE
Extra 20% OFF over $299  code:RH
COUPON USAGE
Please find "DISCOUNT CODES" section in order information page, then just enter Coupon Code like "SUPER25" ,and click "APPLY COUPON" button before you check out.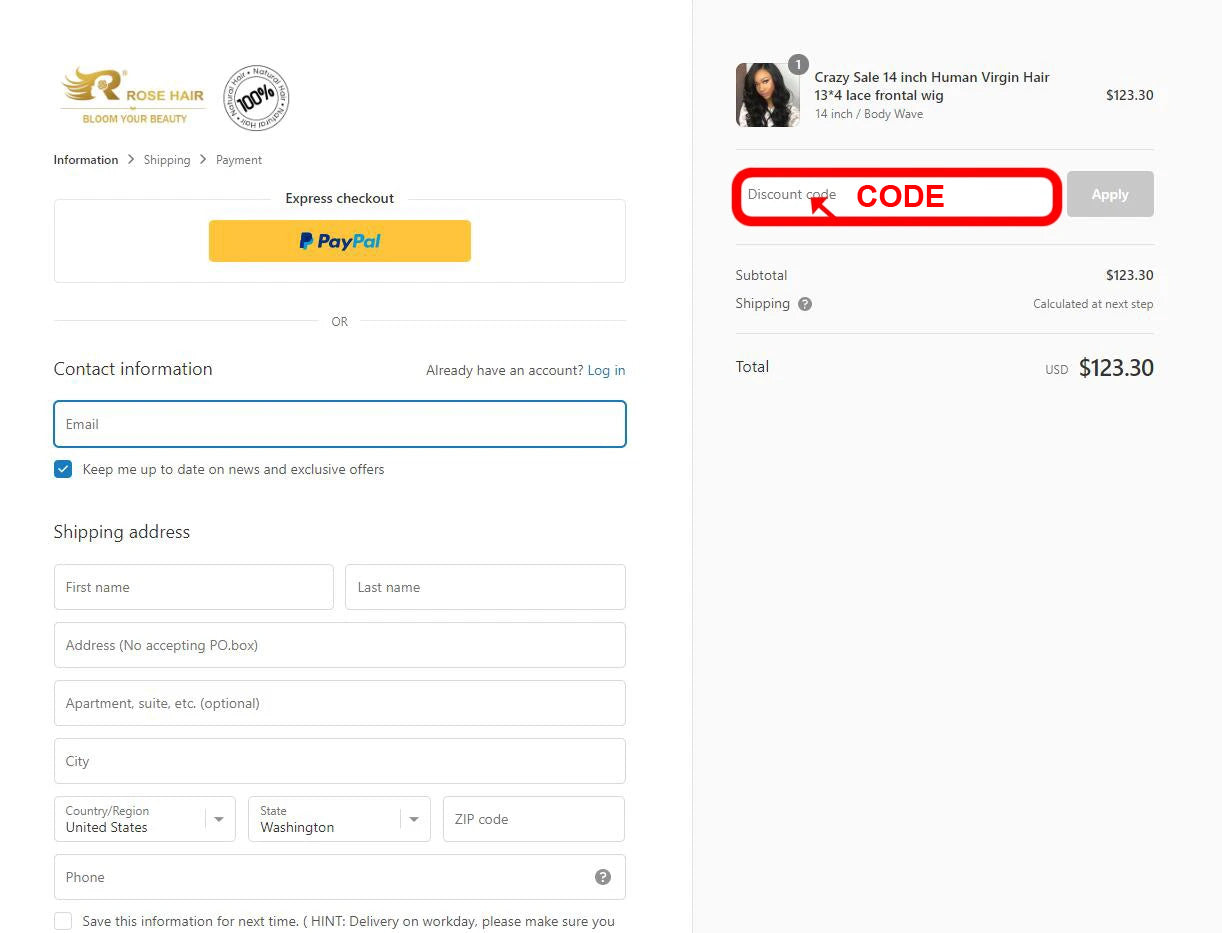 RETURN POLICY
Your satisfaction is our goal. If you are unhappy with your purchase, please make sure to contact us with email at first. The unauthorized returns will not be accepted. All merchandise returns must be unworn, unwashed, original lace( uncut ), original curl pattern( undispersed ), and still, have the original package & gifts attached. 
All transactions and service on https://www.rosehair.com  are processed by ROSEHAIR ECOMMERCE CO., LIMITED.
Helpful Hint: 
1.We recommend shipping packages back using USPS Flat Rate shipping with a tracking number  for convenience, as we are not responsible for lost packages or stolen packages. Without proof of receipt and delivery, we will not issue return credit. You will be responsible for covering shipping costs to return items and shipping charges must be prepaid. 
2.Returned items must be unworn and unwashed and uncut and unstyled (free of any stains from makeup, deodorant, or wear) with gifts and product package attached. Defective items must be reported with Email within 2 days of receipt. If not reported, we will not issue credit. If you believe you have received an incorrect item, please contact us within 2 days of receiving your package. Report email: service@rosehair.com
3.Please note that original shipping fees will be removed from refund and return shipping costs are the customer's responsibility, if the returning is due to buyer's problem. We does not provide return shipping labels. A restocking fee will be assessed on orders that are refused by the customer at the time of delivery or returned due to an "un-deliverable" address. When delivered, the unauthorized rejection is not allowed, and the cost of unauthorized rejection/return will be borne by the buyer.
Refund:
1.If the returning is due to our problems (Such as: Incorrect products, Quality problem of products), we will provide a full refund for you; But !  Return/Refund With Hair In Original Condition. 
2.We don't accept used hair returning and any claim about not matching description. Besides, if you just don't want the item and want a refund, please also contact us within 10 days after you receipt it, and you will be charged up to $20 restocking fee. If the problem is that the buyer does not want the product. (custom products and special color products) We will deduct 30% of the total order amount as a handling fee. All rights to interpret are reserved by rosehair.com (Our refunds are unified and they are refunded through our website. this is with held from refund)
3.Once your return is received and inspected, we will send you an email to notify you that we have received your returned item. We will also notify you of the approval or rejection of your refund. If you are approved, then your refund will be processed, and a credit will automatically be applied to your credit card or original method of payment, within a certain amount of days. If you no longer use the original card, please contact us in advance.
4.If you have any problems with order/products/payment, please contact with us at first. If you return the items without contacting us, or if there is no reason to dispute, we will not ensure your refund and make a complaint according to the policy.
Unsuccessful delivery:
1.If the parcel is delivered unsuccessfully because of wrong address offered by buyer. We are not responsible for any loss caused
2.If the parcel is sent to a wrong address or lost by the shipping company, we can resend the parcel to you or offer you a refund. Item not as described: You are encouraged to open the parcel to check the item once it is delivered to your house. You should contact us within 15 days if you are not satisfied with the item.
Cancellation & Exchange:
We can cancel the order for you if you contact us in time after your purchase.
1. If contact us within 24 hours after your payment finished, 5% of the order total will be charged as transaction fee.
2. If after 24 hours, 5%~20% of the order total will be charged as transaction and handling fee.
3. Orders can't be canceled once the parcel is shipped out or we have already begun to custom the hair extension.
4.All custom products and special color products. Successful production cannot cancel the order.
5.When the buyer got it, there is no problem with product quality. If the problem is that the buyer does not want the product. We will deduct 30% of the total order amount as a handling fee. All rights to interpret are reserved by rosehair.com
6. If choosing the paypal echeck to pay, it needs 5-7 days for PayPal to complete the settlement. during this time, if the customer wants to the refund, 5% of the order total will be charged as handling fee. All rights to interpret are reserved by rosehair.com
Exchange Products
1. If because the buyer does not want or like it. The buyer requests a replacement.Please contact us first. let us know. The buyer Return it With Hair In Original Condition.After we received the item and checked it without problems.We will arrange a second order for the production buyer again.
2.  If the buyer wants to exchange another product. the first. The buyer's second order amount is more than the first order amount. Then customers need to pay extra fees. second. If the second order amount is less than the first order amount. We will refund part of the amount to the customer through the website. The buyer has to pay the returned shipping fee.
Note: If requesting for repair or exchange or cancel your order, you shall firstly contact us by service email:  service@rosehair.com  We will not provide any exchange, return or repair service on returned hair extension without our permission, and all loss will be afforded by customers. Return With Hair In Original Condition.
Reserved Rights Regarding Returns:
We reserves the right to solely define and limit, refuse, and/or reject returns from customers at any time due to:
1.An irregular or excessive returns history;
2.An irregular or excessive returns history involving worn, altered, laundered, damaged, or missing items; 
3.Potential fraudulent or criminal activity.
The incorrect items sent to us will be discarded upon receipt.
Excessive Returns: Our Customer Protection Team also handles situations in which a customer return history may be indicative of fraudulent activity . In these situations, the Customer Protection Team will reach out to discuss the situation and work with you to either resolve the issue or determine if we need to refuse service going forward. While we never want to reject a customer, we must ensure the safety, welfare, and comfort of all customers across the globe.
People who bought this product, also bought